20 stuck left dangling on Australian roller coaster
Comments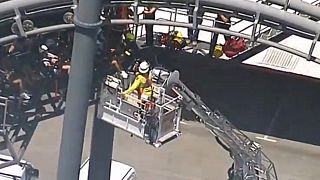 Twenty people have been rescued after they were left dangling for almost two hours at the top of a roller coaster in Australia.
No one has been injured.
The rescue
The thrillseekers were in chairs suspended from the Arkham Asylum ride at the park on the country's Gold Coast.
Most were easily rescued.
However, four could only be reached by emergency personnel using a ladder platform.
The ride will be closed while safety officers carry out an investigation.
UPDATE: All passengers freed from stuck Arkham Asylum rollercoaster at Movie World. #9Newspic.twitter.com/5LT38hNzIE

— Nine News Gold Coast (@9NewsGoldCoast) January 11, 2017
WATCH
Movie World: Passengers being rescued from the top of the Arkham Asylum roller coaster. https://t.co/Kxu7qfTWsp#7Newspic.twitter.com/otFzcxn6iJ

— 7 News Queensland (@7NewsQueensland) January 11, 2017
Dreamworld
The incident follows a deadly accident at Dreamworld, also on the Gold Coast and owned by the Ardent Leisure Group.
Four people were killed on a river rapids ride, making it among the world's deadliest theme park accidents.
What they are saying
"This is a typical safety stop for us. There are no injuries, there are no accidents. Our team are very much trained to do these evacuations as per our protocol," – Movie World Greg Young.