Rafsanjani funeral draws huge crowds to Tehran
Comments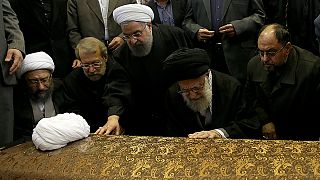 Tens of thousands of Iranians have turned out for the funeral of former President Akbar Hashemi Rafsanjani in Tehran.
The 82-year-old died of a heart attack on Sunday.
He was president from 1989 to 1997.
Who is leading the ceremony?
Supreme leader Ayatollah Ali Khamenei will perform prayers at the ceremony.
It is being held at Tehran University.
Official mourning
Three days of official mourning got underway on Monday.
The former president will be interred next to Iran's revolutionary leader, Ayatollah Khomeini.
Political overtones
The funeral is being seen as a show of force by reformists and moderates.
Analysts say Mr Rafsanjani was a figurehead for them in recent years.
His death, ahead of May's presidential elections, is a blow to moderate president Hassan Rouhani.
He allied himself with Rafsanjani to win the 2013 election and went on to resolve Iran's long standoff with the West on Tehran's nuclear programme.
However, hardliners are also expected to attend the service in large numbers.
WATCH
Tens of thousands throng the streets of Tehran for Rafsanjani funeral:
At Rafsanjani's funeral in Tehran now the pro-reform crowd is chanting:
"The will of Hashemi (is)
Supporting Khatami" pic.twitter.com/KyCU8APu5r

— Negar نگار (@NegarMortazavi) January 10, 2017
People chanting the name of the leader of #Iran's green movement at #Rafsanjani's funeral. #MirHousainpic.twitter.com/i3uIAAxJvh

— Bahman Kalbasi (@BahmanKalbasi) January 10, 2017
READ
The world reacts to the death of the former Iranian leader:
World reacts to death of former Iranian leader Rafsanjani. https://t.co/ZNcRl2UI8W

— The Associated Press (@AP) January 9, 2017