Portugal holds state funeral for former president Mario Soares
Comments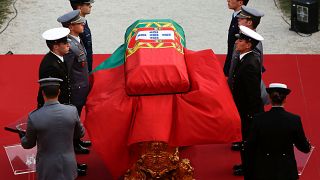 Portugal has paid its final respects to former President Mario Soares, following his death on Saturday at the age of 92.
Soares was the founder of Portugal's Socialist party and led his country's democratic transition after the 1974 revolution.
He also spearheaded the country's entry into the EU and several senior political veterans from Europe's Left were in attendance at the state funeral in Lisbon on Tuesday.
Paying his own tribute, Joao Soares, the son of the former president, said: "My father, Mario Soares, was one of the great figures of democracy in Portugal and by virtue of his constant civic intervention and his attachment to Portugal, as well as democratic values, gained a place among the great figures of Europe in the second half of the last century."
Afterwards, the late leader's coffin was taken for burial at Lisbon's Prazeres cemetery, the final resting place for many of Portugal's leading lights.