Iranians rebel at former President Rafsanjani's funeral
Comments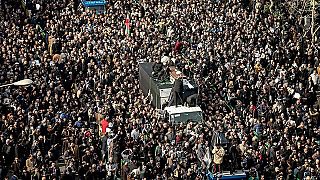 The funeral of former President Ali Akbar Hashemi Rafsanjani has presented a rare occasion for Iranians to express public resistance.
Huge crowds flocked on to the streets of Tehran to commemorate the former insider and founding member of the revolution whose political allegiances shifted in later life towards the reformists.
Rafsanjani died of a heart attack on Sunday (January 8), at the age of 82.
At the ceremony hosted by Iran's Supreme Leader, Ali Khamenei, Rafsanjani's family members were reportedly pushed back to make way on the front row for supporters of the host, despite a rift between him and the deceased in recent years. Khamenei's guests were, for the most part, critics – some hardline – of the ex-president.
This didn't stop some mourners from calling for the release from house arrest of opposition leader and former Prime Minister Mir-Hossein Mousavi.
Other mourners chanted the name of Rafsanjani's successor and fellow reformist Mohammed Khatami.
The chants reportedly obliged state television to turn up the background music in an effort to drown out the sound.
Khatami's name and image are banned in Iranian media and he is said to have been forbidden from attending the funeral.
Moderates in Iran are concerned the balance has now been shifted away from the reformists and fear Rafsanjani's protege President Hassan Rouhani will suffer when he seeks re-election in May.