"Great service, but we don't tip black people"
Comments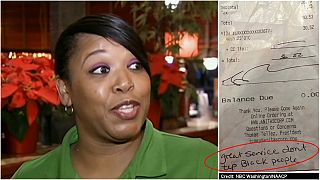 Support has poured in for a black waitress who said she was the victim of a racist note from a customer.
I was appalled, but it's kind of in line with the political landscape, unfortunately.
Kelly Carter, who works at a restaurant in Virginia, USA, found the message at the bottom of a receipt.
It read: "Great service, don't tip black people."
Carter said the note had shocked her so much she'd had to read it three times before believing it.
Restaurant owner Tommy Tellez told the BBC customers had been dropping by to give Ms Carter cash.
Another campaign had raised a further $2,708 (2,557 euros) as of Tuesday, January 10.
A waitress in Ashburn, Virginia, says she was shocked after a customer left her a racist message on a receipt https://t.co/Bu9D2bpM9L

—

NBCW

ashington (@nbcwashington) January 9, 2017
A white couple in their 20s are believed to have left the note at the bottom of their receipt, which shows they spent $30.52 (28.82 euros) on food and drink.
Leaving money for waiting staff, or tipping, is an integral part of US restaurant culture: many servers earn less than the minimum wage and rely on tips to boost their salaries.
Tellez, speaking to NBC, said: "I was appalled, but it's kind of in line with the political landscape, unfortunately. It's disheartening, I am outraged."