Israeli special forces dismantle funeral tent of truck attacker
Comments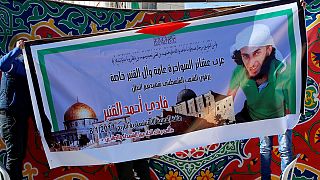 Israeli special forces have dismantled the funeral tent of Fadi Qunbar, the man accused of being behind Sunday's deadly truck attack in which four Israeli soldiers were killed.
The 28-year-old Palestinian came from the district of Jabel Mukaber in east Jerusalem, located near to the attack site.
Despite claims by Israel's prime minister that he was an ISIL terrorist, a cousin of Qunbar said: "He used to go to the mosque like any other person. He had a happy life, he did not have problems. He was married with children. What happened is a normal thing, after all this is a response for what is happening at Al-Aqsa,"Mohammed Qunbar said.
At least nine suspects, including five members of Qunbar's family were arrested overnight.
The Al-Aqsa compound, revered by both Jews and Muslims, has repeatedly been a source of tension. Palestinians accuse Israeli forces of restricting access to the site and using heavy handed tactics.