Turkish PM meets Iraqi Kurdish leader in Erbil
Comments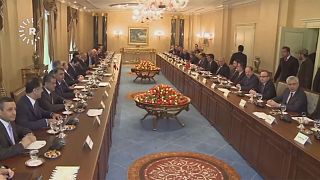 Turkey's diplomatic drive in Iraq has continued, the Turkish prime minister meeting the leader of Iraq's Kurdish region, on the second day of his visit to the country.
Binali Yildirim held talks with Iraqi Kurdish regional President Massoud Barzani in the Kurdistan capital Erbil on Sunday.
There has been confusion over what emerged from his trip to Baghdad on Saturday.
Iraq's Prime Minister Haider al-Abadi said agreement had been reached over an Iraqi demand for the withdrawal of Turkish forces from Bashiqa near Mosul – although a joint communique made no reference to it.
Iraq and Turkey have been at odds over the continued presence of Turkish forces in northern Iraq.
Turkey has several military bases in Iraqi Kurdistan and keeps hundreds of troops there, battling ISIL militants.
Baghdad objects to their presence at the Bashiqa camp where soldiers trained Sunni Muslim and allied Kurdish Peshmerga units ahead of the Iraqi government's offensive to oust ISIL from Mosul.