Watch: Prisoners 'stabbed' as violence erupts at US jail
Comments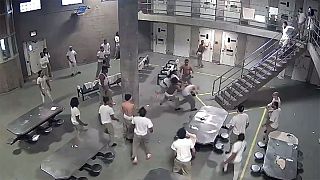 This is the brawl at a US jail that left five prisoners injured, some with stab wounds.
It broke out at Cook County jail in Chicago, Illinois, one of the largest prisons in the US with a population of around 9,000 inmates.
The footage was released by Cook County Sheriff's Office.
Cara Smith, spokeswoman for the jail, told local media that the fight was brought under control quickly, although the footage shows 1m 20s of fighting without any apparent intervention.
Smith said several weapons, including two that were made from inhalers, were recovered.
Some of the injuries were 'puncture' wounds but none were life threatening, she added.