Russia reduces forces in Syria but civil war rages on
Comments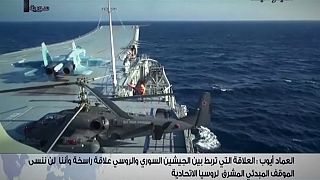 It is 'mission accomplished' for the Admiral Kuznetsov aircraft carrier – now headed back to Russia after completing its operations in waters off Syria.
Moscow says it is reducing its military presence in Syria under a ceasefire deal between opposition groups and the government in Damascus.
The head of the Russian General Staff, Valery Gerasimov, said that moves had begun on Friday with the Russian naval fleet led by the Admiral Kuznetsov, beginning its withdrawal from the eastern Mediterranean.
#Russia scales down military presence in #Syria, Admiral #Kuznetsov aircraft carrier to leave first https://t.co/Ln5SDF5X9dpic.twitter.com/W6PDhJU4kg

— RT (@RT_com) 6 janvier 2017
Syrian army chief of staff Lieutenant General Ali Abdullah Ayoub visited the vessel to mark the occasion.
In remarks shown on Russian state television, he stressed the importance of Russian military support given to Damascus in "the war on terrorism and the need to develop military cooperation" with Russia even after "the victory over terrorism".
Russia has previously failed to deliver on promises to pull back its forces from Syria.
Moscow announced a reduction of its military deployment in the country in March last year, but continued supply runs by land and air before sending significant reinforcements in October.
With huge Russian help, the Assad regime was strengthened by its recent success in Aleppo.
But Idlib-province remains rebel-held and ISIL still notably runs Raqqa – meaning that Syria's civil war is far from over.
On the banks of Lake Assad, US-backed militias announced on Friday that they had captured an ancient citadel from so-called Islamic State in Raqqa province.
The Syrian Democratic Forces (SDF) alliance said that it has taken the Jabar citadel in a strategically significant move.
The seizure of the citadel was hailed by Brett McGurk, US President Barack Obama's counter-ISIL envoy.
More #SDF gains against #ISIL terrorists on the western approaches to #Raqqa. https://t.co/FkmHh96AL0#الرقة#داعش#ISIS#Daesh

— Brett McGurk (@brett_mcgurk) 6 janvier 2017
The citadel is located near a dam on the Euphrates River that the US-backed alliance also aims to capture in the current phase of its campaign.
The SDF, which includes the powerful Kurdish YPG militia, is the main partner for the United States in the campaign it is leading against ISIL in Syria.
with Reuters