New anti-Maduro challenge looms in Venezuela
Comments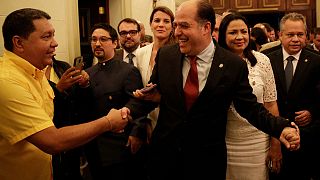 The stage is set for a fresh showdown between Venezuela's opposition and embattled President Nicolas Maduro.
It follows the election of veteran politician Julio Borges as the new Speaker of the country's opposition-led National Assembly.
No sooner had veteran politician and lawyer Borges been installed in the post than he pledged a vote on removing Maduro from office.
Venezuela's opposition is still smarting from its failure to force Maduro out last year.
"In the coming days, we will approve by a majority of this National Assembly, a declaration for the dismissal of Nicolas Maduro from his position," Borges told the chamber.
Maduro has just reshuffled his cabinet, naming state governor Tarek El Aissami as the new vice president – meaning that he would take over from Maduro should the Socialist leader be forced out.
Notably, a new oil minister and economy czar were also appointed as Venezuela grapples with an unrelenting economic crisis.
The story of a teenager who died looking for food embodies Venezuela's economic crisis https://t.co/jDOBlotvOKpic.twitter.com/RgtuzM7I6g

— The New York Times (@nytimes) 1 janvier 2017
But attention has focused on the new Vice President, accused by the opposition of links to the drugs trade.
El Aissami vehemently denies this, denouncing his critics as traitors to Venezuela.