'I hope I've made you proud,' Michelle Obama gives final speech as FLOTUS
Comments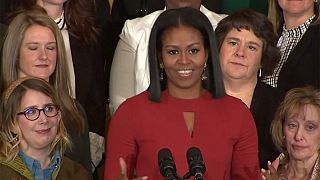 Two weeks to the day before the next president is to be inaugurated, Michelle Obama delivered her final remarks as First Lady of the United States.
She appeared cheerful and upbeat as she honoured the '2017 School Counselor of the Year' in the White House. But the speech was clearly an emotional one and the first lady broke down towards the end.
"If you or your parents are immigrants, know that your are part of a proud American tradition. The infusion of new cultures, talents and ideas, generation after generation…that has made us the greatest country on earth. You see, our glorious diversity, our diversities of faiths and colours and creeds. That is not a threat to who we are. It makes us who we are.
"Being your First Lady has been the greatest honour of my life, and I hope I've made you proud."
Her husband, President Barack Obama, is to make his final public speech in Chicago on Tuesday (January 10).