Europe shivers in New Year big freeze
Comments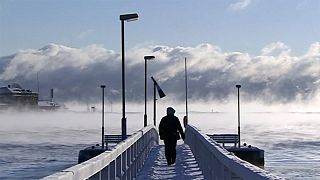 A big freeze is gripping parts of Europe at the start of 2017.
A severe cold warning has been issued in Finland where temperatures on Friday could plunge to -40C in the far north.
Travel has been affected by the bitter cold with railway tracks hit by frost damage.
See the latest forecasts for your area
Bitter cold snarls #masstransit in #Finlandhttps://t.co/z89VtlFG2gpic.twitter.com/jfwc3WD6Lc

— Yle News (@ylenews) January 5, 2017
Heavy snowfall has also hit Bosnia where bone-chilling temperatures of between -11C and -26C are expected in a cold snap set to last for at least five days.
There is no escape in Italy with a warning of extreme weather for much of the country. Snow has already fallen in the central region hit by earthquakes last year. The initial tremor in August killed some 300 people, most of them in the town of Amatrice.
Cold snap bites Italy - Snow, icy winds sweep the country https://t.co/5d2b3sohfT

— Ansa English News (@ansa_english) January 5, 2017
A storm surge meanwhile has caused major damage to northeast Germany. Cars were swept away and streets inundated as Storm Axel hit towns, cities and beach resorts, causing what is said to be the worst flooding to the country's Baltic coast in a decade.
Germany's northeastern coast has been hit by the worst storm it's seen since 2006.

The town of Wismar has been one of the worst affected. pic.twitter.com/Ci7dFnkP4C

— dwnews (@dwnews) January 5, 2017
The northern states of Schleswig-Holstein and Mecklenburg-Western Pomerania were among the worst hit, with water levels rising by almost 2 metres in some areas after heavy rainfall. Residents were well prepared with sandbags and levels began to subside on Thursday.
Temperatures in Berlin are expected to plunge to -10 degrees Centigrade on Saturday.
with Reuters