EU migration row escalates over Austria 'offshore' asylum plan
Comments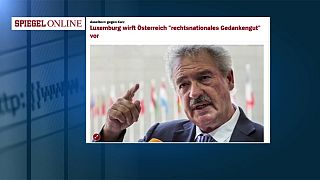 In a sign of further splits within the EU on migration, Luxembourg's Foreign Minister Jean Asselborn has slammed Austrian proposals to create asylum centres outside the bloc.
Asselborn told the German magazine 'Der Spiegel': "The idea of penning in refugees on a rented island outside the EU belongs, for me, to a right-wing national line of thinking."
He said that the EU should not be a "fortress of indifference" when "persecuted people knock on our door".
Asselborn has long supported a policy of solidarity with migrants.
#Asselborn @ #JHA "Global governance regarding #migration needs to build on European & national efforts" #solidaritypic.twitter.com/62re67qeOk

— MFA Luxembourg (@MFA_Lu) 7 juillet 2016
Austrian Foreign Minister Sebastian Kurz and his coalition government want to overhaul the EU's migrant policy, by only permitting asylum applications from outside EU borders.
Austria's defence minister has drafted a plan to establish a ceiling for migration and only allow applications for asylum from outside the EU, Germany's Bild newspaper reported on Thursday.
Hans Peter Doskozil, a Social Democrat, told the newspaper the changes were urgently needed to create a more orderly system of legal migration for those entitled to asylum in the bloc.
"It's about ending the failed European asylum policies. We must admit to ourselves and be honest that the EU has limited capacity to absorb more migrants. We must stop illegal immigration," Bild quoted the minister as saying.
Doskozil will present the plan at a meeting of the Central European Defence Cooperation (CEDC) in February and aims "to promote the plan forcefully in Brussels," his spokesman said.
Austria's centrist government tightened migration laws last year amid strong gains for the anti-immigrant Freedom Party (FPO), whose candidate Norbert Hofer made it to a December presidential election run-off.
Anti-immigrant sentiment has boosted support for far-right and populist parties in Austria and its neighbour Germany after both countries took in waves of migrants, many of them from the Middle East and North Africa, during Europe's migration crisis in 2015.
Many in Austria and Germany have, however, welcomed the new arrivals with open arms.
Austrian bishop breaks down barriers https://t.co/mNWY15Zpz2pic.twitter.com/OvNiodDDzJ

— The Local Austria (@TheLocalAustria) 29 décembre 2016
with Reuters