Putin 'ordered hacking campaign' to help Trump, US report finds
Comments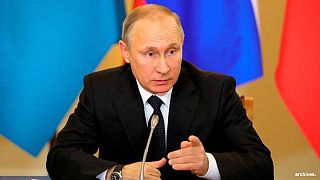 Russian leader Vladimir Putin ordered a campaign to hurt Hillary Clinton and help Donald Trump's electoral chances in last year's presidential campaign, according to a declassified report by US intelligence agencies.
They assess 'with high confidence' that Russian military intelligence supplied WikiLeaks with information obtained from hacking Clinton's Democratic party and its officials.
Two weeks before his inauguration as president, Trump received his own briefing on the report.
However he has refused to endorse its findings and defends the legitimacy of his election win.
Declassified report says Putin 'ordered' effort to undermine faith in election and help elect Trump https://t.co/akQitFFyzG

— Washington Post (@washingtonpost) 6 janvier 2017
Vice President-Elect Mike Pence told reporters in New York on Friday that Trump would act firmly aginst cyber hacking from the outset.
"The president-elect has made it very clear that we are going to take aggressive action in the early days of our administration to combat cyber attacks and protect the American people from this type of intrusion in the future," Pence said.
The report concluded that both Democratic and Republican parties were targeted by cyber hacking.
Donald Trump tweeted late on Friday that the Democrats were guilty of 'gross negligence' for 'allowing hacking to take place'.
Gross negligence by the Democratic National Committee allowed hacking to take place.The Republican National Committee had strong defense!

— Donald J. Trump (@realDonaldTrump) 7 janvier 2017
Russia denies any suggestion that it was involved in hacking during the US election campaign.