Tight security in Spain for the Three Kings
Comments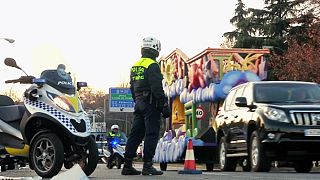 Security is tight in place in Spain for the feast of the Three Kings.
The country's Interior Ministry announced tighter security measures on Wednesday due to the risk of a terrorist attack.
Madrid imposes ban on large trucks and buses for two days from 3 January: https://t.co/7yzQbtPhaB#Spain#security#terrorismpic.twitter.com/bcDEoWLJ5C

— El País in English (@elpaisinenglish) January 2, 2017
The details
Spain is on a level 4 security alert out of a possible 5.
The Interior Ministry has not given details of the level of policing mobilised.
Large vehicles banned
Vehicles of more than 3.5 tonnes have been banned from the centres of Madrid and Barcelona.
The route of the parade in Madrid is three kilometres long.
In Barcelona, an estimated 650,000 people are expected along a five-kilometre route.
Madrid on max alert for terror attack at Three Kings Parade tonight. 800 police to guard route & vehicles over 3500kg not allowed in city.

— Pablo Foley Elias (@pablofoleyelias) January 5, 2017
The context
12 people were killed in December when a lorry deliberately ploughed into the crowd at a Christmas market in Berlin.
86 people died in the French city of Nice last July in a similar attack.
Both were claimed by ISIL.
Concern has been heightened in Spain since the discovery on the 30th of December of a video of suspected jihadists in the centre of Madrid.
Two Spanish nationals were arrested and later released.
191 people died in March 2004 when militants planted bombs on trains at Madrid's Atocha station.
The Three Kings
The parade of the Three Kings on January the 5th in Spain is an important, post-Christmas festival.
Thousands turn out for the parades of coloured floats. Sweets are thrown to the crowds.
It is followed on January the 6th by the feast of the Epiphany.