Germany gripped by severe storm
Comments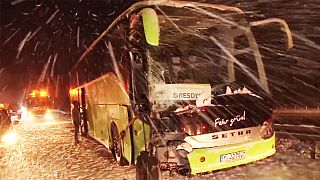 Germany has been hit by what's thought to be its biggest storm in ten years.
Emergency service workers have described conditions as unbearable.
The stormy weather has led to flooding along Germany's Baltic Sea coast and caused some damage to seaside promenades.
Heavy snow storms have led to dozens of crashes on northern motorways with up to nine people reported seriously injured. Icy roads have also meant long delays and serious disruption for travellers.