Four people arrested in connection to Chicago torture video
Comments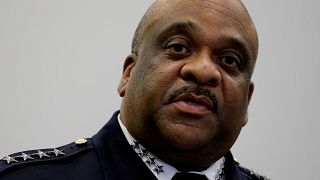 Four people in Chicago are being questioned by police after a video, broadcast live on Facebook, showed a brutal attack against a bound and gagged teen.
Posted at roughly 14h00 local time, the video showed a group of two black men and two black women kicking and slapping their victim, a white male, while shouting "F—- Donald Trump" and "F—- white people."
The video, which was viewed more than 62,000 times before it was removed from Facebook also showed the victim suffering a scalp wound.
CPD press conference regarding disturbing live social media video depicting a battery ; victim was tied up https://t.co/jDrjfz4sJV

— Chicago Police (@Chicago_Police) January 5, 2017
Police have not released the name of the 18-year old victim, but said he had been reported missing by his family on Monday. They told police they had not heard from him since Dec. 31.
Police say they suspect the victim, who is mentally handicapped, knew one of the suspects and was lured by his would-be-attackers and held against his will for at least 24 hours.
"The images put on display show the brazenness of the offenders who assaulted the victim and then broadcast it for the entire world to see", police superintendent Eddie Johnson said during a press conference Wednesday.
Chicago police said they will look into whether the racially-motivated chants and torture constitute a hate crime.
Commander Kevin Duffin, of Chicago's Area North Detective Division, said police expect formal charges from prosecutors investigating the incident within the next 24 hours.
The victim was noticed by patrol officers on Tuesday, disorientated and walking along in the Homan Square neighbourhood west of central Chicago. Police took the victim to hospital for treatment.
In a separate incident police then responded to a reported battery at a residence, during which, four people were detained by police.
Chicago Police Captain Steven Sesso said police were able to link the four people at the address with the finding of the traumatised teen by patrol officers and the video depicting the attack.
Police became aware of the video after initially finding the 18 year old and the suspected residence.
"I've said time and time again if you commit an act of violence in the city of Chicago, you will feel the full weight of the Chicago police department", Johnson said.