More than 100 injured in rail accident in New York
Comments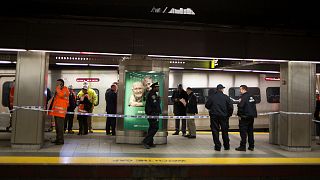 A train derailed in Brooklyn's busy Atlantic Terminal in New York during rush hour on Wednesday morning.
About 100 people sustained relatively minor injuries, the most serious of which was a broken leg.
103 injuries reported at scene of Atlantic Terminal LIRR train derailment, all non-life-threatening pic.twitter.com/t5p78cAFlU

—

FDNY

(@FDNY) January 4, 2017
One of the passengers caught up in the incident said that it was her impression that the train was travelling faster than usual as it approached the terminal. Another described how her leg was injured when it hit steel during the impact.
Investigators have been sent to the scene of the city's second major rail accident in five months. In September 2016 a New Jersey transit train crashed into a terminal in Hoboken, New Jersey, killing one woman and injuring 114 people.
Early indications are that Wednesday's Brooklyn train failed to stop before hitting a bumper. New York Governor Andrew Cuomo told a rapidly-assembled press conference that "it was a train that didn't stop when it was supposed to, [and] hit the bumping block at a fairly low rate of speed".
Tom Prendergast, Chairman of the Metropolitan Transportation Authority said that the engineer was probably responsible for failing to stop the train on time.
Cuomo has placed infrastructure improvements at the heart of his agenda. His office has expressed some relief that the injuries sustained were not more serious.
Our thoughts are w/ all aboard this morning's LIRR derailment. Thankfully, all injuries are minor. TY FDNY</a> & <a href="https://twitter.com/NYPDnews">NYPDNews for quick response. https://t.co/Wl5PGBBteA

—

NYC

Mayor's Office (@NYCMayorsOffice) January 4, 2017
The Long Island Railroad is the largest commuter rail system in the US, serving more than 330,000 passengers each day.