German authorities detain Tunisian in connection with Berlin attack
Comments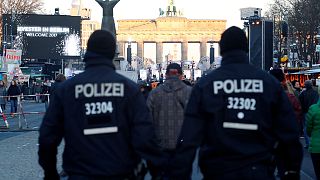 German authorities have taken a 26-year old Tunisian into custody in connection with December's deadly truck attack on a Christmas market in Berlin.
His detention follows searches and the overnight raid of a refugee shelter in the suburb of Spandau.
New Berlin attack arrest after police raids https://t.co/QKi8GexmTMpic.twitter.com/oOfR6jMz4B

— Reuters TV (@ReutersTV) January 4, 2017
Associates?
The suspect is believed to have been an associate of Anis Amri, the Berlin attacker.
A spokesperson for the Federal Prosecutor's Office said that the pair had met in a restaurant in the Gesundbrunnen district of Berlin on the night before the attack.
Prosecutors believe that he knew the attack plans and possibly helped Amri, whom he had known since December 2015.
As there is currently insufficient evidence to charge him with offences related to the attack, he is being held for fraud involving social benefits. German police sometimes arrest terrorism suspects on lesser charges rather than wait for further evidence to emerge.
The Berlin attacker
Anis Amri, a failed Tunisian asylum seeker, was killed in a shoot-out with Italian police on 23 December after a routine identity check in Sesto San Giovanni, near Milan.
He is believed to have travelled to Italy via the Netherlands, and then Lyon, in France. A train ticket from Lyon was found on his body.
Berlin attack: Anis Amri 'probably radicalised after entering Italy in 2011' https://t.co/iOQzvs9T5Fpic.twitter.com/omQRm04NQL

— euronews (@euronews) December 30, 2016
Forensic evidence
Italian police have revealed new forensic evidence linking the gun used by Amri in the shoot-out with the one that killed the driver of the hijacked truck used in the Berlin attack.
Aftermath of the attack
The attack on the Christmas market on 19 December last year killed 12 people and injured a further 56.
It has subsequently been revealed that Amri was known to the German authorities, but had been considered earlier in 2016 to pose no immediate terrorist threat.
In a New Year address to the nation, Chancellor Angela Merkel said that Islamist terrorism was the biggest test facing Germany.
Developments in Switzerland
Switzerland's Office of the Attorney General has announced that it has opened criminal proceedings in connection to the Berlin attack.
The proceedings are based on suspected support of a criminal organisation, and a violation of Switzerland's ban on Islamic State and al Qaeda. They are against "unknown" persons.
The investigation is taking place in close cooperation with Switzerland's Federal Office of Police and will be coordinated with foreign authorities.