Watch : Eaglet hatches in Florida
Comments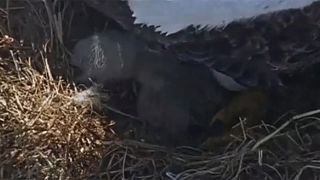 The first of two bald eagle eggs that millions of people have been watching online hatched early on Saturday morning in Fort Myers, Florida.
Two bald eagles named Harriet and M15 have been patiently waiting for the first eagle to break out of its shell after pipping began on Thursday with the first cracks in the shell.
The pipping process can be arduous and take between 24 to 48 hours, according to reports.
The eagle cam which can been seen at @SouthwestFloridaEagleCam/SWFLEagleCam.com has had 60 million views and routinely has over 60,000 people watching the live stream, according to the website.
It is the fourth year that viewers have been transfixed by Harriet's nesting season. In the first year of the eagle cam over 16 million watched Harriet and her former mate Ozzie raise two eaglets, according to reports. Harriet has been with M15, or Male 2015 since last year when Ozzie died following a fight with another male eagle, according to reports.
The bald eagle almost disappeared from the United States decades ago, but habitat protection and the banning of the pesticide DDT led to its recovery.