Police question Israeli PM in corruption probe
Comments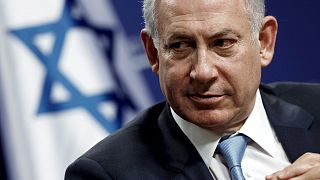 Israeli police have questioned Prime Minister Benjamin Netanyahu under caution at his official residence in Jerusalem as part of an inquiry into corruption.
The Israeli leader was asked about receiving so-called "benefits" from businessmen in breach of his role as a public servant.
Questioning under caution means the police believe a suspect has a case to answer.
Prior to the police "interview" Netanyahu told his ruling Likud faction in parliament that those anticipating his downfall should not expect his imminent departure.
He has been accused of accepting gifts worth thousands of euros from domestic and international businessman but has repeatedly denied any wrong doing.
Opponents of Netanyahu have called for an investigation into his affairs following a series of scandals in recent months – none of which has resulted in any charges.
Questioning
Netanyahu is not the first prime minister to be questioned in a criminal case.
Ehud Olmert, who held office from 2006 to 2009, is currently serving 18 months in prison after being convicted of breach of trust and bribery in 2014.
Former prime minister Ariel Sharon was questioned while in office in 2003 and 2004 over allegations of bribery and corruption involving him and his two sons. In 2006, his son Omri was convicted of corruption and served time in prison.