Calm restored after riot at migrant reception centre in Italy
Comments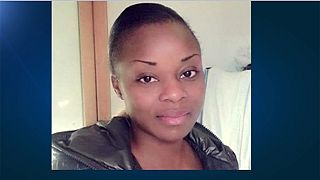 Calm has been restored in the town of Conetta near Venice in northern Italy, after unrest broke out at a reception centre for migrants.
Trouble flared after the death of Sandrine Bayakoko.
The 25-year-old, from Ivory Coast, died in hospital after collapsing in a bathroom.
Some think the emergency services took too long to respond and the delay cost Sandrine her life.
There is anger among local residents.
"There was turmoil and confusion," one man told reporters. "From what I could see, they blocked the entrance with tables. Then they lit a fire. You could hear screams, it was chaotic."
"They must go," said another. "They must all be taken back home. They should stop them leaving in the first place."
Is Italy toughening its stance on migrants?
The unrest in Conetta comes amid signs that Italy is toughening its stance on migrants.
Officials are planning to deport more who have no right to be in the country, according to a new directive.
The authorities also plan to open new detention centres to hold them before their expulsion.
The news comes a week after the Berlin Christmas market attacker Anis Amri was shot dead near Milan.
Sent to police stations nationwide
The two-page document was sent to police stations across the country on Friday.
It orders them to increase efforts to identify and deport migrants.
Seen by the Reuters news agency, the directive says police should take "extraordinary action" before the "growing migratory pressure in an international context marked by instability and threats" to "control and remove irregular foreigners."
What about the new detention centres?
Interior Minister Marco Minniti plans to open several new detention centres that hold migrants prior to their expulsion.
Ministry sources say this is in line with repeated requests by European Union member states.
Former Prime Minister Matteo Renzi agreed to set up "hotspots" to identify and fingerprint migrants who arrived on Italian shores.
However, he refused to build large detention centres to hold migrants who did not qualify for refugee status.
Only four pre-deportation detention centres are currently in operation. Each has around 360 beds.
Sources say the Interior Ministry is hoping to open up 16 more with at least 1,000 more spots.
However, this would still only accommodate a fraction of the undocumented migrants thought to be living in Italy.
Italy to seek to track down and deport migrants with no right to stay https://t.co/vJvBsBV6gHpic.twitter.com/fQkcjkQZWC

— Reuters Top News (@Reuters) December 31, 2016
Euronews fact check – Italy's deportations
More than 27,000 expulsion orders were handed out in Italy in 2015.
However, fewer than 5,000 were deported, according to figures from Eurostat
#Italy becomes top point of arrival for #migrants heading to Europe in 2016 https://t.co/d6rlXsgWMfpic.twitter.com/VPsOHCWQI4

— China Xinhua News (@XHNews) December 31, 2016
The Berlin attacker
Anis Amri, a Tunisian national, came to Italy by boat in 2011.
Italy tried to deport him back to Tunisia, but without success.
He was then released from a detention centre and ordered to leave the country in 2015.
The context
This is the first major policy change by Prime Minister Paolo Gentiloni's government since it took power in mid-December.
It comes on the heels of a record year of boat migrant arrivals.
It also comes less than a month after the Berlin truck attack by Amri, that killed 12 people including an Italian woman.
German Chancellor Angela Merkel has also called for greater effort to deport those who do not qualify for international protection.
However, the process is slow and expensive and requires bilateral agreements with the countries of origin.
Italy currently has bilateral agreements with only a handful of African countries.