Migrants storm border fence into Spain's Ceuta enclave
Comments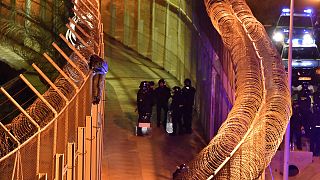 More than 1000 migrants stormed a double fence on Sunday in a bid to cross from Morocco into Spain's North African enclave of Ceuta.
Although dozens made it to the top of the six metre barbed wire barrier they were eventually removed by cranes
Five Spanish policemen and 50 members of the Moroccan forces were injured in the incident, including one who lost an eye.
Spain's two enclaves in Morocco, Ceuta and Melilla, are often used as entry points into Europe for African migrants, who either climb over their border fences or try to swim along the coast.
Spain has drawn criticism from human rights groups for allowing some migrants to be immediately turned back to Morocco in such incidents. They argue that skipping the lengthier deportation procedures deprives people of the opportunity to claim asylum.