Palestinian woman shot by Israeli police 'was attempting knife attack'
Comments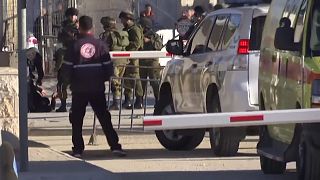 Israeli police say a Palestinian woman, shot and injured by security forces on Friday, had been trying to carry out a stabbing attack.
They say she was armed with a knife as she moved towards guards at the Qalandia checkpoint in the West Bank, outside Jerusalem, and was hit in the legs after ignoring calls to stop.
Witnesses say the woman lay on the ground for nearly an hour as guards checked her for explosives, before being taken for treatment.
Amid a wave of stabbings, shootings and vehicle attacks by Palestinians targeting Israelis, Palestinians have accused Israeli police and soldiers of using excessive force against assailants, saying that many could have been stopped or detained without being killed. In several cases, Israel has opened investigations.
with Reuters