Kraft jumps to victory at prestigious Four Hills opener
Comments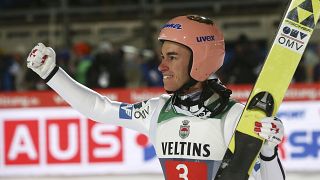 Stefan Kraft has won the opening stop of the prestigious Four Hills Tournament in Oberstdorf for the second time in his career.
The Austrian, who won on the Bavarian hill back in 2014, qualified third on Thursday but the following day amassed 308 points to take top spot.
He produced jumps of 139 and 134.5 metres for his first win of the season.
Poland's Kamil Stoch took second place at the German resort.
The 29-year old Zakopane native ended the event with 305.2 points with leaps of 137 and 135 metres.
It was his second consecutive runners-up finish on the World Cup circuit after Engelberg a fortnight ago although he has tasted success this season after topping the Lillehammer podium earlier this month.
Kraft's compatriot Michael Hayboeck rounded out the podium in third place.
He scored 295.4 points with jumps of 135 and 133 metres.
Slovenia's 17-year old sensation Domen Prevc lost significant ground to all his rivals with a 26th place finish but remains on top of the World Cup standings.
The next Four Hills Tournament stop takes place in Garmisch-Partenkirchen on New Year's day.