Obama expels 35 Russian diplomats, accuses Russia of meddling in election
Comments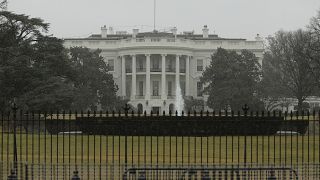 The United States on Thursday fired back at Moscow over its meddling in the presidential election, announcing a series of tough sanctions against intelligence agencies, expulsions of agents and shutting down of Russian compounds on US soil.
Read the statement by POTUS</a> on U.S. actions in response to Russian malicious cyber activity and harassment:<a href="https://t.co/4IO178lrkW">https://t.co/4IO178lrkW</a> <a href="https://t.co/nRBYmhyNVz">pic.twitter.com/nRBYmhyNVz</a></p>&mdash; The White House (WhiteHouse) 29 décembre 2016
US President Barack Obama had all but accused Russian President Vladimir Putin of personally ordering an audacious cyber hack that many Democrats believe damaged Hillary Clinton's chances in November's closely fought election with Republican foe Donald Trump.
The US intelligence community has concluded that a hack-and-release of Democratic Party and Clinton staff emails was designed to put Trump — a political neophyte who has praised Putin — into the Oval Office.
The measures are certain to send tensions with Moscow soaring just three weeks before Trump succeeds Obama.
"I have ordered a number of actions in response to the Russian government's aggressive harassment of US officials and cyber operations aimed at the US election," Obama said.
"These actions follow repeated private and public warnings that we have issued to the Russian government, and are a necessary and appropriate response to efforts to harm US interests in violation of established international norms of behavior."
Among the measures announced were sanctions against Russia's FSB and GRU intelligence agencies, the designation of 35 Russian operatives as "persona non grata" and the closure of two Russian compounds in New York and Maryland that the United States says are used "for intelligence-related purposes."
"All Americans should be alarmed by Russia's actions," Obama said.
"Moreover, our diplomats have experienced an unacceptable level of harassment in Moscow by Russian security services and police over the last year.
"Such activities have consequences."
FSB, GRU targeted
Washington accuses the Russian military's Main Intelligence Directorate (GRU) of hacking information with the intent to interfere with the US election — and says the Federal Security Service (FSB) has helped.
It will face sanctions, along with four individual GRU officers including agency chief Igor Valentinovich Korobov and three other entities.
In addition, the US Treasury slapped sanctions on two individuals, Evgeniy Mikhailovich Bogachev and Aleksey Alekseyevich Belan, for "involvement in malicious cyber-enabled activities."
The sanctions freeze any assets they may have in the United States and blocks US businesses from doing business with them.
A total of 35 Russian intelligence operatives based at the Russian embassy in Washington and the consulate in San Francisco have been declared "persona non grata" and ordered to leave the country within 72 hours.
The US government is also declassifying technical information on Russian cyber activity to help companies defend against future attacks.
"These actions are not the sum total of our response to Russia's aggressive activities. We will continue to take a variety of actions at a time and place of our choosing, some of which will not be publicized," Obama said.
"The United States and friends and allies around the world must work together to oppose Russia's efforts to undermine established international norms of behavior, and interfere with democratic governance."
Prior to November's election, the Obama administration warned Russia via diplomatic channels to stop its cyber meddling, according to The Washington Post. Obama also spoke with Putin at a G20 summit in China earlier this year.
And about a week before the election, Washington sent a message to Moscow using a special crisis communication channel for the first time, asking it to stop targeting state voter registration and election systems.
Moscow apparently complied, according to US officials.
Russian foreign ministry spokeswoman Maria Zakharova has been quoted as saying that Moscow will respond to any "hostile steps" from Washington.