Turkey and Russia reportedly strike new Syria ceasefire plan
Comments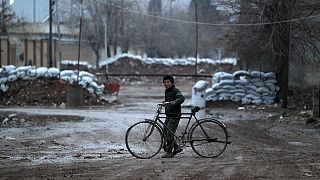 Reports in Turkey say Ankara and Moscow have reached agreement on a new proposal for a ceasefire in Syria.
The state-run Anadolu news agency cites two sources, but there is no official confirmation from the Turkish or Russian governments.
The reports say the plan aims to expand the ceasefire that was put in place in Aleppo to allow for civilian and rebel evacuations.
Last week Russia, Turkey and Iran said they were willing to help broker a peace deal, agreeing on certain conditions that should be met.
Meanwhile, an ISIL-affiliated news agency has released video that purports to show Turkish air strikes on the northern Syrian town of al-Bab.
Fighting is reported to have intensified in the town on Wednesday, with battles between ISIL militants and Syrian rebels backed by Turkey.
Turkey says 16 Turkish soldiers were killed in recent strikes by militants near al-Bab.
Ankara says airstrikes on Wednesday destroyed almost 70 ISIL targets.