Jerusalem council axes new building permits after Netanyahu intervention
Comments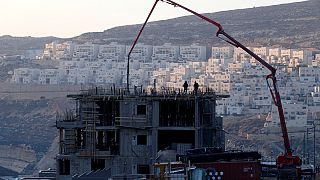 Jerusalem's municipal council has held its regular Wednesday meeting. The last one of the year had been expected to green-light building permits for hundreds of new homes in mainly Arab East Jerusalem. But it didn't happen.
The plans have been public for some time and have been furiously contested by the Palestinians. Israel's settlement policies in the territories it occupies has been the major element in the deterioration of relations between Israel and the USA seen in recent months
It appears the authorisations were dropped on the personal demand of Prime Minister Benjamin Netanyahu, possibly in anticipation of a speech by US Secretary of State John Kerry later today, in which he is expected to lay out US policy for a two-state solution to the deadlocked Israeli-Palestinian peace process.
Illegal Israeli settlement-building was behind the US's allowing a UN security council vote critical of the issue to pass last Friday.