Facebook activates Safety Check over false alarm
Comments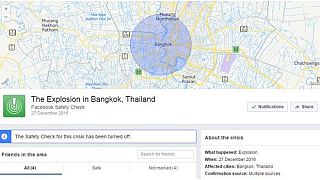 Thai police officials warn they are considering prosecuting those responsible for disseminating a "fake news" article Tuesday night about a large explosion in Bangkok, prompting the activation of Facebook's Security Check feature which reportedly caused wide-spread panic in the Thai capital.
"If it was intentionally created by someone, they will be punished under the Article 14(2) of the Computer Crime Act," said deputy police spokesman Kritsana Pattanacharoen.
Under the law, false information that damages national security or causes unrest can be punishable of up to five years in jail or a 500,000 baht (roughly 13,300 euro) fine.
At 21h00 local time on Tuesday, Facebook activated its Security Check feature after a "trusted third party", backed by media sources, confirmed an explosion had taken place in the city.
Thousands of Facebook users marked themselves safe and news of the Bangkok explosion travelled world-wide.
Except the explosion never took place.
Facebook's media confirmation appears to have originated from a 2015 BBC article about an attack at the Erawan shrine, published more than a year ago on the Bangkok Informer's website.
The "source" of the Facebook</a> Safety Check for Bangkok: A fake news site that scrapped stuff from elsewhere…! <a href="https://t.co/i6Q2k8XBxP">pic.twitter.com/i6Q2k8XBxP</a></p>&mdash; Saksith Saiyasombut (SaksithCNA) December 27, 2016
That article was then picked up Tuesday by an MSN.news bot and spread throughout the Internet. By 22h15, Facebook had deactivated their alert, reports Khaosod English .
In a statement made to euronews Wednesday, Facebook defended its use of its Safety Check feature citing four Thai news reports of a separate incident that did indeed take place in Bangkok on Tuesday — except several hours earlier.
"Safety Check was activated [Tuesday] in Thailand following an explosion," Facebook said in its statement. "As with all Safety Check activations, Facebook relies on a trusted third party to first confirm the incident and then on the community to use the tool and share with friends and family."
Facebook did not provide any additional information as to how the social media giant confirms or obtains "trusted third party" information.
In a separate incident in Bangkok, a man identified as Chalerm Sonnontee climbed onto the roof of a government building compound in a protest against Prime Minister Prayuth Chan-Ocha.
To alert police officers, the man reportedly threw several ping pong bombs, the colloquial name for a glass bottle filled with gunpowder , but there are conflicting reports Sonnontee may not have detonated any device.
No explosion in Bangkok as Facebook alarmed: Thai police https://t.co/QUISeDjVsc

— The Malaysian Times (@TMalaysianTimes) December 28, 2016
No one was injured in the incident and Sonnontee was later arrested.
Facebook said in November 2016 that its Safety Check feature, which is designed to reassure friends and family when disaster strikes, would be activated entirely by the social media's online community.
In the social media company's statement to euronews, this was done so as to allow the feature "to be used by more people, more often no matter how big or small the crisis is."
Technology news website The Verge reported that Facebook was fooled on Tuesday by its own algorithms, which track trending news topics and give users the option to trigger the Facebook Safety Check.
This is not the first time, reports the tech website, that Facebook's Safety Check feature mislead users. In March some users received errant safety check messages regarding a suicide attack in Pakistan.
In its statement to euronews Facebook said it is still learning how to improve its safety check feature.
"We are continuing to learn how to make Safety Check better for communities in need and continue listening to feedback to make the tool more useful and relevant in future", Facebook said.
Tuesday's incident comes just weeks after Facebook declared that they would attempt to stamp out 'fake news' stories, which have been spreading across social media platforms in recent months.
However, CEO Mark Zuckerberg said it was a 'crazy idea' to suggest that the rise of fake 'news' had influenced the result of the US Presidential election, won by Donald Trump.
Read more on how to spot fake news, and why it's a problem here.