China says Pearl Harbor visit won't 'clear' Japan's wartime role
Comments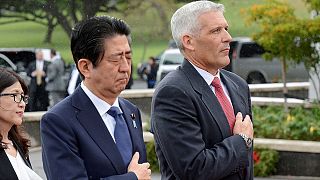 Ahead of his landmark visit to the site of the Pearl Harbor bombing on Tuesday, Japan's Prime Minister Shinzo Abe has stopped at several memorials in Hawaii.
His presence is intended to show a strong alliance between his country and the United States, seven months after President Barack Obama's historic trip to Hiroshima where the US dropped an atomic bomb at the end of World War Two.
And just as Obama did not apologise, nor will Abe. Both men, together, will pray for the dead.
"I am very much looking forward to sending out a strong message about the value of reconciliation as well as our sincere prayers for those who died in the war," Abe told guests at a dinner reception held on the occasion of his visit, in Hawaii's capital, Honolulu.
The Japanese prime minister's visit to Pearl Harbor is a sign of how far public opinion in Japan has moved https://t.co/k93ZUj2Bge

— The New York Times (@nytimes) 26 décembre 2016
Abe is keen to boost ties with the US amid concerns about China's expanding military capability.
But in Beijing, where the government has urged Japan to show greater repentance for the war and the Japanese invasion of China, a foreign ministry spokeswoman said on Tuesday that it was "wishful thinking" for Abe, if he hoped to use the visit to "settle the accounts" for the war.
Japanese PM @AbeShinzo's visit to #PearlHarbor is meaningless unless he recognizes Japan's war crimes https://t.co/JUiJ5zDar1pic.twitter.com/ftDHRZuFmh

— People's Daily,China (@PDChina) 27 décembre 2016
It was on December 7, 1941, that Japan launched its surprise attack on the US naval base at Pearl Harbor. It left some 2,400 Americans dead and catapulted the United States into the Second World War.