Turkey cafe boss arrested for 'cup of tea insult' against the president
Comments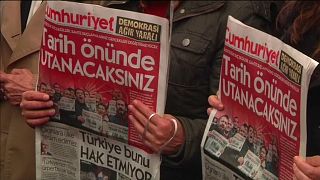 The manager of a cafeteria at a Turkish opposition newspaper has reportedly been arrested after saying he would refuse to serve President Recep Tayyip Erdogan a cup of tea.
According to the daily Cumhuriyet, Senol Buran, the cafeteria boss at the paper's Istanbul office was detained on Saturday on suspicion of insulting the Turkish leader.
The offence is a crime in Turkey punishable by up to 4-years in jail.
Abbas Yalcin a lawyer for the newspaper said: ''They are making these kinds of arrests as a form of punishment. This event happened on Saturday afternoon. When they wrote the official report it was 11am. They waited until 10pm and Senol had been taken in custody with three armoured vehicles under the guard of eight to ten police officers from a counter-terrorism unit."
Buran is said to have told police officers he would refuse to make the president a cup of tea after he was stopped on his way to work.
According to court papers obtained by Reuters the cafeteria boss admits making the comment but denies insulting the president.
Staff at Cumhuriyet, have been among tens of thousands of people arrested, suspended or fired since a crackdown on dissent following last July's failed coup.
The newspaper is one of the few critical voices of Turkey's government.