Terror not ruled out as cause of Russia military plane crash
Comments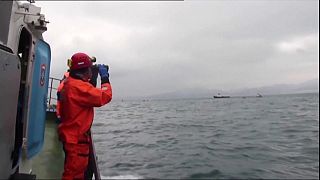 Hopes of finding survivors have long since faded.
But as search operations continue for the remains of all 92 people on board a Russian military plane that crashed into the Black Sea on Sunday, the possibility a terror attack brought it down is not being ruled out.
Bound for Syria, the Tupolev plane disappeared just after taking off from the southern Russian resort of Sochi.
Several bodies have now been recovered from the water.
#TU154 crash: 32 vessels, 80 divers and 5 helicopters involved in search op – Russian MoD https://t.co/YBd2Z1tOTWpic.twitter.com/5ssAePzCmK

— RT (@RT_com) 25 décembre 2016
Russian Transport Minister Maxim Sokolov is seeking answers – and it won't be easy.
"The Black Boxes on this kind of plane – a Tupolev-154 – are not equipped with transponders, so we have to look for them on the bottom of the sea among the remains of the aircraft which we hope have been preserved," he told reporters.
As for what triggered the crash, he said the Investigative Committee is considering all possible causes, while cautioning that it is too soon to speculate.
The minister's comments contrast with officials' statements earlier that totally excluded terrorism.
A criminal inquiry will now probe the crash that killed, among others, Dr Elizaveta Glinka, a renowned aid worker, who has been honoured by President Vladimir Putin.
Known as Doctor Liza in Russia, she was accompanying medical supplies to a hospital in Latakia.
Glinka was travelling on the Tupolev-154, a type of aircraft that has been involved in a number of accidents in the past, with 64 members of the Alexandrov Ensemble, Russia's famous military music group, better known internationally as the Red Army Choir.
They was heading to Syria to give a concert at a Russian air base there.
64 members of world-renowned Alexandrov army band missing in #TU154 crash (VIDEO) https://t.co/EHDyF31arFpic.twitter.com/T1XaVwd3RF

— RT (@RT_com) 25 décembre 2016