Putin declares Day of Mourning for Russia plane crash victims
Comments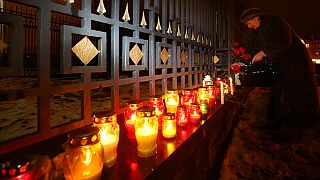 Muscovites laid floral tributes at the headquarters of the famed Alexandrov Ensemble choir on Sunday, after at least 60 of its members were killed in the crash of a Russian military plane en route to Syria.
They had been heading to a Russian air base in Latakia to entertain troops in the run-up to the New Year.
All 92 people on board the Soviet-era Tupolev plane died early on Sunday morning when it crashed into the Black Sea, shortly after taking off from Sochi.
Founded in 1928, The Alexandrov Ensemble, better known internationally as the Red Army Choir,
was a symbol of Russia, performing not only in war zones but also to music lovers at concert halls across the world.
#TU154: All but 3 choir singers of Alexandrov Ensemble were aboard plane - lead solo singer Vadim Ananyev confirms https://t.co/YBd2Z1tOTWpic.twitter.com/zel5clp4wE

— RT (@RT_com) 25 décembre 2016
#AlexandrovEnsemble's head, 64 members were on board of Russian #Tu154 plane https://t.co/6S8l7gKwGGpic.twitter.com/ay6HY3bTE0

— Sputnik (@SputnikInt) 25 décembre 2016
Speaking In St. Petersburg, Putin addressed reporters and looked visibly shaken by the tragedy.
"I would like to express deep condolences to the families of our citizens who died this morning in the Black Sea," he said.
"A Special Commission headed by the Minister of Transport will closely investigate the circumstances of the crash and everything will be done to support the families of the victims. A Day of Mourning will be observed tomorrow across Russia."
Monday, December 26 declared national day of mourning for #Tu154 crash victims – Putin https://t.co/YBd2Z1tOTWpic.twitter.com/gEj4NPXRIJ

— RT (@RT_com) 25 décembre 2016