Europe on edge: Tight security amid Christmas terror fears
Comments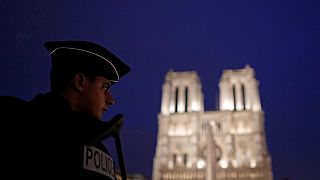 In the season of peace and goodwill, Europe is taking no chances.
France is on edge, from Notre Dame Cathedral in Paris to Notre Dame Basilica in Nice.
Both cities have been touched by terror and fears that Islamist militants could strike at midnight mass and throughout the long Christmas weekend have focussed many minds as Christians celebrate the birth of Jesus.
"I'm worried. I am still thinking about what happened on Bastille Day and in Berlin," said one woman in Nice.
"I won't go to midnight mass whereas I usually go every year."
Emergency rule has been in place since the Paris attacks, and French soldiers patrol the capital's streets. Police have been given wider search and arrest powers to target suspects considered a threat to security.
In Rome, vans and trucks have been banned from entering the city centre and security forces wielding guns have set up roadblocks on routes leading to famous tourist sites or areas where crowds traditionally gather. Streets leading to the Vatican are under tight protection.
Police have reinforced armed patrols at airports and railway stations in Germany, most recently hit by terror.
German Interior Minister Thomas de Maiziere has said the danger of an attack in Germany remains high despite the death of the suspected attacker.
#Merkel orders massive security review after #Berlin attack https://t.co/6XK595NDKApic.twitter.com/90diFOIxB3

— dwnews (@dwnews) 23 décembre 2016
Britain is on its second-highest threat level, meaning an attack by militants is considered highly likely.
Police there have increased security at a number of popular tourist attractions, including around Queen Elizabeth's London residence, Buckingham Palace. Armed officers patrol major shopping centres, Christmas markets and places of worship.
Wednesday's i: "Europe on Christmas terror alert" pic.twitter.com/TwtypOx7hG#BBCPapers#tomorrowspaperstoday (via @suttonnick)

— BBC News (UK) (@BBCNews) 20 décembre 2016
with Reuters