Kristoffersen wins second straight Madonna di Campiglio slalom
Comments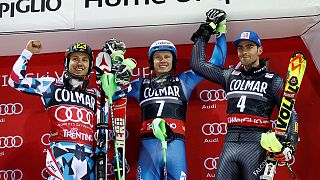 Madonna di Campiglio has turned out to be happy hunting ground for Norway's Henrik Kristoffersen, who on Thursday won a world cup slalom race at the Italian resort for the second year running.
The defending champion topped the timesheets after the first run down the icy Canelone Miramonti course.
He then held his nerve to produce a near flawless second run of the floodlit race to win his second straight slalom this season.
The win helped Kristoffersen close the gap in both the discipline and overall standings on Austrian Marcel Hirscher, who claimed second place at the oldest Italian World Cup venue.
Reigning five-time overall World Cup champion Hirscher was second after the first run and held onto that position following the final run as he celebrated his seventh podium finish from 12 races so far this season.
He has amassed five runners up finishes and two race wins this campaign.
He is now only 60 points clear of Kristoffersen in the slalom standings but a whopping 251 points clear of his Norwegian rival in the overall classification.
Stefano Gross thrilled the home crowd with third place in Madonna di Campiglio.
The Italian was fourth fastest in both runs, but that was enough to secure the final step of the podium – his first top three finish this season.