Defiant Germans say unity will rule Christmas, not fear
Comments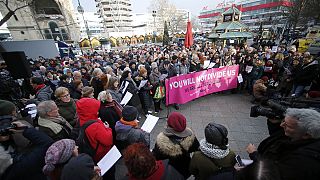 The German and Italian Foreign ministers are the latest visitors to the makeshift shrine that has appeared at the Berlin Christmas market.
It appeared soon after the truck attack on Monday that left 12 people dead, and Berliners and visitors to the city have been coming here since to lay flowers for the victims.
The attack has shocked Germany and come at the end of a tense year of attacks around Europe, rising tension over immigration, and opinion poll pressure on Angela Merkel to change policies.
Angry Germans are looking for someone to blame.
"I am deeply moved, horrified, bewildered and very furious. Furious about a policy that has allowed us to find ourselves in a situation of insecurity, even though we knew about it."
"It is three days to Christmas and German society was hit hard, actually the heart of society. And this can tear our society apart. We saw it in Paris, in Nice, in other cities
it happened, and it is so important that Germany remains so versatile and colourful and that people see that it is better when we stay together."
Certainly many Germans are putting on a brave face to chime with officials' encouragement to people to carry on celebrating Christmas, while others are showing defiance in the face of terror, calling for unity and rejecting ISIL's message of hate.
Berlin's Christmas market will reopen on Thursday.