Brexit, Donald Trump and war in Syria: Euronews journalists review 2016
Comments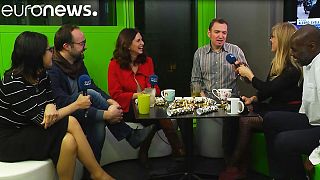 2016 was a heavy year for news, so I invited a few of my colleagues to take a look back at what happened and try to make sense of some key events.
We managed to cover subjects including Brexit, Donald Trump and the war in Syria.
By far the most difficult task for all of us, was to find some good news, but in the end we succeeded. Take a look.
Lena Roche, German journalist
Brexit
"Brexit wasn't that much of a surprise." Tokunbo Salako, British journalist
"Brexit is not such a disaster. Britain has always been a problem for Brussels." Anne Glémarec, French journalist
Trump
"Trump seemed, to the average American, trustworthy, authentic and original."
Samia Mekki, Algerian journalist
"We don't know the reality of the Midwest, of the deep America."
Salvatore Falco, Italian journalist
Syria
"ISIS is redrawing the Middle East's map and we will witness the rise of micro states."
Samia Mekki, Algerian journalist
Good news
"I don't know. In Russia, since Dostoevsky, we are very gloomy."
Serguei Doubine, Russian journalist