Europe pays tribute to those killed in the Berlin Christmas market attack
Comments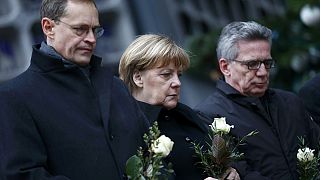 A sombre-looking Angela Merkel joined the Mayor of Berlin, and Germany's foreign and interior ministers at the scene of the deadly truck attack on the Christmas market in the capital.
Known for her open-door refugee policy, the Chancellor earlier told the press it would be "particularly sickening" if it turned out the vehicle's driver was an asylum seeker.
While she signed a book of condolences in the Kaiser Wilhelm Memorial Church, people outside were remembering those who lost their lives.
Several European countries also paid tribute to Germany and its victims. Belgium, Spain and France, each of which have been hit by terrorism, all observed a minute's silence on Tuesday.