Berlin: "Truck simply drove over people" says witness
Comments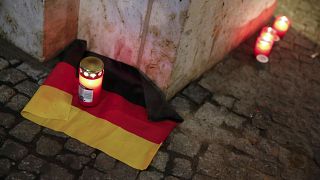 By midnight there was still a heavy police presence on streets across the German capital. Earlier Berliners had been urged to stay at home. But many who had witnessed the mayhem as the truck rammed into the wooden Christmas market huts were still stunned.
"A truck drove in there and simply drove over people, and then I was over there (pointing). I saw how it drove in there, and then he ran away. Then I heard shots, and then I went back, and after two minutes the police were here, and they controlled the truck," said one young man.
While an English tourist described having a narrow escape:
"As we were leaving the large truck came through. It went just past me, past my girlfriend. I think it missed me by three metres, missed her by five. It came in through the entrance, hit the sides of the barriers and then carried on past us."
Germany is a popular tourist destination especially in December but the incident can only add to a heightened sense of anxiety about possible Christmas attacks among Western governments.