Berlin: police say 'truck deliberately targeted crowds' in deadly crash
Comments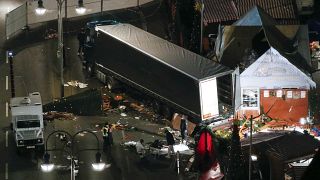 Hours after a lorry ploughed into a crowded Christmas market in Berlin, German police are now saying it was a deliberate act and possibly an act of terror.
At least 12 people were killed and around fifty more were injured in what many are calling a terror attack.
One man thought to have been the driver has been arrested while a passenger died as it crashed into shoppers.
It is suspected that the truck was stolen from a construction site in Poland.
The investigations are still ongoing.#Breitscheidplatz

— PolizeiBerlinEinsatz (@PolizeiBerlin_E) December 19, 2016
Berlin police released on social media that the vehicle which is Polish owned was loaded with steel and may have been stolen from a construction site.
According to the company, contact was lost with the driver on Monday afternoon but on following its GPS someone had repeatedly tried starting the engine raising speculation that a novice was attempting to drive it.
Police sources now say the body in the drivers cab was of a Polish national.
Within minutes of the truck crashing, emergency vehicles filled the area. The market at the foot of the Kaiser Wilhelm memorial church is one of the busiest in central Berlin at this time of year.
Police originally said it was unclear why the vehicle veered off into the market but locals insisted the action was suspicious as there are no evening deliveries.
Wolfgang Bosbach, an MP with Chancellor Angela Merkel's Christian Democrats, told the press:
"Although there is a host of unanswered questions, indications are it was a deliberate attack, carried out not just with the greatest brutality and disastrous consequences, but also with deliberate symbolism".
"Just a few days before Christmas, in the middle of the German capital and amidst happy, peaceful people. The message is clear: no matter where, no matter how, we can pounce at any time."
Where?
The incident occurred in the west of the city, on Breitscheidplatz, which is one of Berlin's busiest shopping areas.
Eyewitnesses reported hearing a loud noise, before chaos ensued.
France to increase security
It has evoked memories of the Bastille Day attack in Nice, France, in July this year, when a Tunisian-born man drove a truck into crowds who had been watching a firework display on the beach front. Eighty-six people were killed in that incident, which was claimed by the ISIL militant group.
Under a state of emergency since the Paris attacks in November, 2015, France is now to increase security at Christmas markets across the country.
The Interior Ministry issued a statement saying:
"Franco-German cooperation will continue with no respite so that democracies win the war against those who want to strike at our values and freedoms.
"All security forces will keep to a maximum level of vigilance. Security at Christmas markets will be reinforced with immediate effect."