Female choir performs Christmas concert like goats for charity
Comments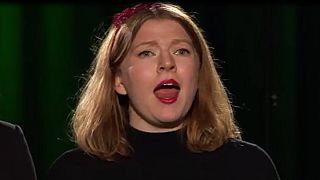 A Swedish all-female choir performed a charity concert with a difference yesterday, December 18, as they put a new spin on Christmas carols by singing like goats.
The choir bleated out classics such as "We Wish You a Merry Christmas", which feature on a charity album, "All I Want for Christmas Is a Goat", released by ActionAid last year.
The humorous concert, which was live-streamed on Facebook, also had a serious message with the Swedish arm of ActionAid aiming to raise awareness of "the goat's importance and [the charity's] fight for a world free from poverty".
ActionAid says that goats help to empower women in areas of great poverty by providing "nutritious milk, which can be sold at the local market in order to collect money for seeds and the children's' tuition."