Canadian tourist among several killed in Jordan castle shooting
Comments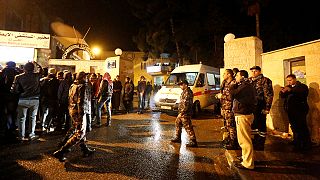 A Canadian female tourist is among at least ten people killed in a shootout between gunmen and security officials in and around a medieval castle in southern Jordan, authorities say.
The Jordanian government says an operation is underway to flush out six "terrorists" from the citadel in the mountainous city of Karak.
Witnesses reported hearing sporadic gunfire in the vicinity of the citadel, which is one of the nation's most popular tourist destinations.
Two Jordanian civilians and seven police officers are also said to have been killed.
A number of people trapped inside the castle were later reported to have been freed. Foreign tourists were said to be among them.
The identity of the gunmen is unknown. No one has claimed responsibility for the attack.
Jordan's public security directorate issued a statement saying:
"Police and security forces have surrounded the castle and its vicinity and launched an operation to hunt down the gunmen."
The nation is a close ally of the United States. It forms part of the US-led coalition fighting the ISIL jihadist group in Iraq and Syria, prompting the militants to threaten to "break down" Jordan's borders.