Santa Claus is coming to town: Madrid charity race attracts 12,500 lookalikes
Comments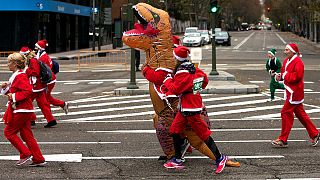 Santa Claus may be busy at this time of year, but some 12,500 lookalikes have taken to the streets of the Spanish capital for an annual charity race.
Adults and children took part in the six-kilometre run through Madrid to raise funds for Spain's Multiple Sclerosis society.
The event was organised by one of Europe's biggest department store groups, El Corte Ingles.