A march for a peace deal in divided Cyprus
Comments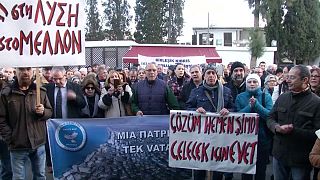 Greek Cypriots and Turkish Cypriots stood side by side in a rally to reunify the divided island.
Marching through the UN buffer zone, they were calling on leaders of the two sides to do their utmost to make a deal.
Holding placards that read 'Yes to a solution', they chanted 'Cyprus belongs to the people'.
"We are here believing that a new era, a new epoch for Cyprus can start with the co-operation between Greek and Turkish Cypriots for a common country," Takis Chatzidimtriou, a protest organiser told a reporter.
"In this island as modern people of the south and the north, as Cypriots, we can find a way, we can find a middle way and I think it is very close," said Turkish Cypriot protester Salih Oztopzak.
The island has been divided since the Turkish troops invaded in 1974 in response to an Athens-inspired coup seeking a union with Greece. Generations of diplomats have failed find a settlement.
Efforts will resume next month in Geneva, to resolve the issue of how much land would remain in Greek and Turkish Cypriot control.
Greek Cypriot leader Nicos Anastasiades and his Turkish Cypriot counterpart Mustafa Akıncı agreed to return to the negotiating table after UN-sponsored talks in November collapsed. They are due to meet on January 9th, and will present maps of their respective proposals two days later.