7 ways media like Euronews try to make sure you see their stories on Facebook
Comments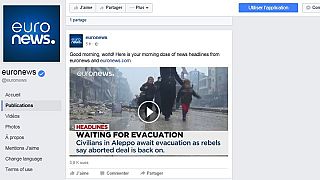 Facebook is the biggest media company in the world.
It won't tell you that, because it says it is a technology company. But more people get their news from Facebook than anywhere else.
And when you scroll down your news feed, you'll see this in action every day.
So Euronews, like other news organisations, posts updates and stories into Facebook, so you can see us without having to come to our website.
But the problem, or perhaps the main advantage, of Facebook is that it doesn't use editors to decide what you see. Instead it uses a computer program known as its algorithm.
And this algorithm shows you stories based not on what they are about, but based on how other people have reacted to them, or what format it they are presented in.
Because of this, social media managers have worked out a few tactics to make sure the posts they produce are seen by more people. Of course, you can "Unlike" our Facebook page if you don't like what we post, so we are careful only to publish things that we think will be interesting to our audience. We also think it is important that we promote our content because so much of the material on Facebook is in fact untrue or Fake news. We see it as part of our job to make sure more people see the real news.
But so you are aware of how we, and most other media, use Facebook here are a few common techniques:
1) Remind people to "Like" and "Share"
Facebook shows a post more if more people have shared it. So by asking people explicitly to share their content, groups posting on Facebook can gain many more reactions and therefore get seen by many more people. So if you like something, do "Like" it, but don't do so just because someone asks you. Also be wary of posts that ask you to vote by "Liking" or "commenting on" the post.
2) Use polls
A legitimate way to get people to click on, or engage with, a post and therefore boosting its popularity is to use a Facebook poll. There's nothing wrong with this, and any links attached to the poll will be more likely to be seen if the poll is popular.
3) Use Facebook Instant Articles
Facebook wants its audience to stay on Facebook for two reasons. 1) because it can then control the experience they get – for instance making sure all the pages load fast; that adverts are not intrusive so people stay longer. And 2) because Facebook makes money from advertising and other sources based on how much it gets used.
So Facebook doesn't really like news organisations using links to send people to their own websites. On the other hand news organisations usually DO like to do this for the same two reasons above.
As a compromise, Facebook created Instant Articles, which are a way that publishers like Euronews can put their full content on Facebook and share some of the money it makes. These work on the Facebook mobile app, and if you use the app and click on a Euronews news story link in English, you will see an Instant Article page. It loads really fast and has all the Euronews content, but is on Facebook, not www.euronews.com. Because the articles load so fast, there is no waiting around and people are more likely to want to "Like" them.
4) Use Live video
Pictures, video and gifs have always worked better on Facebook than just text posts or links because they catch your attention better as you scroll through your feed. This year, however, Facebook released its live video product which allows you, and us, to stream video of events happening right now. Because Facebook wants people to use this product, and because it helps people spend more time on Facebook, Live video seeme to perform better in the algorithm than standard video and so is seen by more people.
5) Post at the right times
Putting too much content on Facebook is bad, as Facebook does not like spam and tries to filter it out. However, posting at times when people are more likely to be looking at Facebook – for instance on Friday afternoons when they are preparing for the weekend; in the evening before they go to bed; or when they get up first thing in the morning – makes the post more likely to be seen.
6) Buy promotion
Facebook allows businesses to pay to make their posts appear in more news feeds and allows them to choose which people will see them. These posts say "sponsored" underneath. Euronews usually does this only when we think content will be interesting to a particular audience although other media spend millions on this self promotion.
7) Moderate comments
When it's about news, most media want to encourage debate but insults and racist comments are the best way to make most of the audience run away from a page. Facebook also provides an automatic profanity filter and an automatic moderation tool that can instantaneously exclude specific words from conversations. But encouraging people to comment and responding quickly can help a page become more visible.