Venezuelan lawmakers back motion blaming Maduro for economic crisis
Comments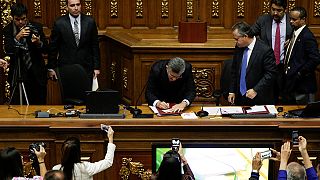 Venezuela's National Assembly has taken a symbolic step by backing a motion blaming the country's leftist president for the country's political and economic crisis.
The motion was unanimously approved mainly because all pro-government MPs had refused to take part.
Earlier opposition lawmaker Gilberto Sojo was given a rapturous welcome. He is one of four opponents of President Nicolas Maduro to have been released from jail. Activists say there are more than 100 unjustly imprisoned.
Meanwhile Maduro's announcement that he would be closing the country's border with Columbia to combat smuggling gangs has caused chaos.
Maduro blamed "mafia" activities which were causing huge damage to the country.
The 72 hour closure has split families even separating children from parents. Many are struggling in an economy which has soaring inflation and to survive they have been selling subsidised fuel in Colombia.
A further measure taken by the president is to take Venezuela's highest denomination bank note the 100-bolivar, out of circulation. He said it would stop gangs from hording the currency. Venezuelans will have 10 days to exchange the notes for coins and new, higher-value bills, but only at the Central Bank.