Russia-Turkish talks on Aleppo more effective than 'fruitless' US talks, says Lavrov
Comments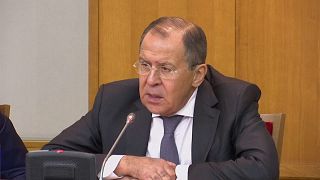 The Russian foreign minister says Moscow has high hopes for ongoing talks with Ankara. Sergey Lavrov says they could be more effective than a "fruitless talking shop" with the United States." with the United States.
"We are talking to all the groups of fighters, except for ISIL and Jabhat al Nusra which have been included in the terrorist lists, and we are talking to countries in the region, including our Turkish colleagues, who also have contacts with the fighters on the ground and the armed opposition," . I think that this channel may become more effective than many months of a pointless hangout we have had with the American colleagues."
Meanwhile Turkish foreign minister Mevlut Cavusoglu accuses Syria and others of trying to obstruct the deal to evacuate Aleppo.
"We see that the regime and other groups are trying to prevent this [evacuation deal]. There are Russia, Iran and groups supported by Iran and the Syrian regime. Nobody should put the blame on others when dealing with a humanitarian issue," said Cavusoglu.
Reuters news agency quotes an unnamed Turkish official saying the ceasefire was "very fragile but not broken," despite the reports of attacks in Aleppo.
There is more than one truth to tell in the terrible story of Aleppo https://t.co/NCjGGPOqxf#Syria

— Edward Dark (@edwardedark) December 13, 2016