Aleppo: fighting resumes after civilian evacuation is delayed
Comments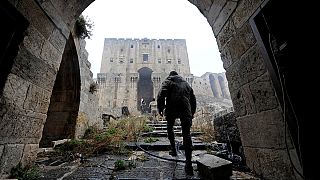 The sound of shelling can again be heard in war-shattered eastern Aleppo, less than 24 hours after a ceasefire was declared.
Government forces resumed shelling early on Wednesday, Syrian rebel officials and witnesses told Reuters. They said it stopped after about half an hour.
Russia's defence ministry said rebels had resumed fighting at dawn, but that Syrian government forces had repelled their attacks, Russia's Interfax news agency reported.
The defence ministry said the Syrian army was continuing its operation to quash resistance.
Civilians and opposition fighters were due to leave at dawn, under a deal brokered by Turkey and the Syrian regime's main ally, Russia.
It is unclear whether it was the renewed fighting that halted the planned evacuation.
People in eastern Aleppo have been packing their bags and burning personal possessions as they prepare to leave, fearing looting by the Syrian army and its Iranian-backed militia allies when they restore control.
Collective shelters in #Aleppo are becoming overcrowded. Many people are now exposed to very cold weather & inadequate sanitary conditions. pic.twitter.com/PKkdpNYSdZ

— IFRC (@Federation) 13 décembre 2016
#Aleppo: ICRC</a> and <a href="https://twitter.com/SYRedCrescent">SYRedCrescent are on the ground to help those displaced in recent violence, but needs are massive. pic.twitter.com/Rc0f0jd4Lt

—

IFRC

(@Federation) 13 décembre 2016
Officials with Aleppo-based rebel groups accused Shi'ite militias backed by Iran of obstructing the deal. The pro-opposition Orient TV cited its correspondent as saying the plan may be delayed until Thursday.
Despite this, almost 6,000 civilians have left rebel-held areas of Aleppo over the past 24 hours and 366 rebels have laid down their arms and moved out over the same period, according to Russia's defence ministry, as quoted by the Interfax news agency.
The UN and others have voiced deep concern at reports of atrocities committed by militias loyal to President Bashar al-Assad.
The evacuation was the culmination of two weeks of rapid advances by the Syrian army and its allies that drove insurgents back into an ever-smaller pocket of the city under intense air strikes and artillery fire.
The rout of rebels from their shrinking territory in eastern Aleppo ends years of fighting in the city. It has given the Syrian leader his biggest victory yet in a civil war that still continues.
with Reuters