Giant wave in European waters 'breaks world record'
Comments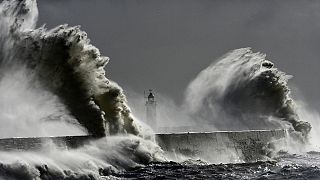 A huge 19-metre-high wave has made a splash among weather experts after it was claimed as the biggest ever recorded by a buoy.
The giant wave (not pictured, above) was registered in waters between the UK and Iceland on February 4, 2013, according to the World Meteorological Organization (WMO), who have only now published information about the record-breaker.
It was recorded around 6am amid strong winds of around 81.1 kph
The WMO says it beat the previous record, also set in the North Atlantic, of 18.2-metres, on December 8, 2007.
The biggest wave surfed was 23.7 metres, according to the Guinness Book of Records, set in Nazare, Portugal.
The record-breaking wave was recorded at approximately 59° N, 11° W, says
WMO
.
"This is the first time we have ever measured a wave of 19 meters. It is a remarkable record," said Wenjian Zhang, assistant secretary-general at WMO. "It highlights the importance of meteorological and ocean observations and forecasts to ensure the safety of the global maritime industry and to protect the lives of crew and passengers on busy shipping lanes.
"We need high quality and extensive ocean records to help in our understanding of weather/ocean interactions.
"Despite the huge strides in satellite technology, the sustained observations and data records from moored and drifting buoys and ships still play a major role in this respect."
Main image A large wave hits the lighthouse and harbour at Newhaven, England, on February 14, 2014. Credit: Reuters.