Bomber in Istanbul stadium attack came from Syria
Comments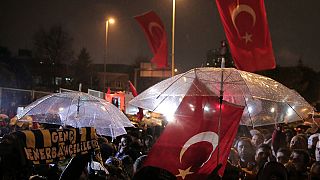 Investigations into last Saturday's (Dec 10 ) twin terror attack near a football stadium in Istanbul have revealed one of the two suicide bombers had come from Syria.
That's according to the Turkish government which is involved in military operations against Kurdish fighters on its border.
An offshoot of the Kurdistan Workers' Party (PKK) has already claimed responsibility.
The PKK, a separatist party that has been battling against the Turkish state for decades and is listed as a terrorist organisation in the US, has been implicated in several recent attacks across the country.
Ankara is also concerned about Kurdish ambitions across the border in Syria, where PKK's affiliate the People's Protection Units (YPG) has expanded the territory under its control with US backing by seizing areas from Islamic State.
Those fears prompted Turkey to intervene militarily in Syria, sending in commandos and tanks to support Syrian rebels fighting ISIL near the border.
Saturday's attack has sparked numerous protests and shows of solidarity with the victims.
The bombings have also intensified a government-led crackdown on people with alleged links to Kurdish militants. Nearly 600 have been detained.
Members of the pro-Kurdish Peoples' Democratic party, parliaments second biggest opposition grouping are among those arrests.
On Wednesday night (Dec 14) security was tight outside the Vodaphone Arena ahead of the first match to be played by the Besiktas football team since the bombings.
Forty-four people died in the attack, most of them police and more than 150 were injured.